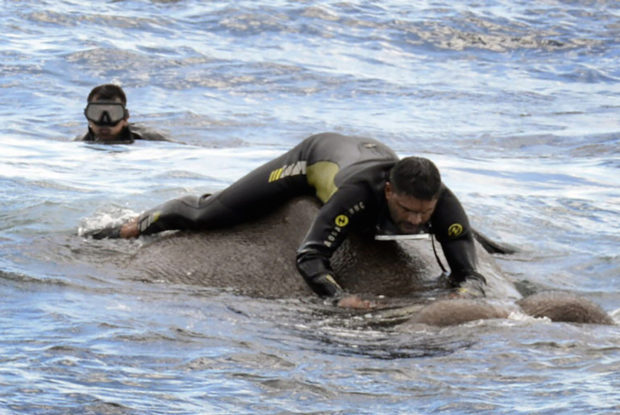 Sri Lanka's navy was called to rescue an elephant that had gotten itself in a dire situation when it was washed out to sea. 
According to straitstimes.com, Chaminda Walakuluge said that the elephant likely got swept into the sea while crossing the Kokkilai lagoon, which is a large stretch of water that lies between two areas of jungle. "They usually wade through shallow waters or even swim across to take a short cut," he said. "It is a miraculous escape for the elephant."
Photos of the daring rescue were posted on the navy's website, and they showed the elephanttrying hard to keep its trunk above the water as divers approached it. 
The incident took place about five miles off the island's northern coast and navy divers were helped by wildlife officials, who tied ropes to the elephant before gently towing it to shallow waters near the coast. 
The distressed animal was released back to its natural habitat late Tuesday and photos of the rescue showed the poor animal almost completely submerged in the deep water. 
The entire rescue took about 12 hours and it came six weeks after the navy and local residents saved about 20 whales who were stranded in nearby Trincomalee. 
Watch the rescue video below and please SHARE it with your friends and family on Facebook!

Do you like elephants as much as we do? Click here to watch a baby elephant searching for a girl's nose.
[Featured Image Credit: EPA]